The exclusive-use Amazon Emotions Lodge is an authentic, rustic-chic and comfortable rainforest accommodation. A center for ecotourism, research, and conservation, ideal for both families and small groups, the accommodations are welcoming and private hideaway in the Amazon. According to the number of days at the lodge, a special schedule is designed to experience the Amazon, with safety and comfort.
Learn about the land and its people, too: tour a fruit orchard, enjoy Amazonian dishes rich in ingredients that you have never even seen before, and find inspiration in local conservation efforts that are restoring landscapes to their original native beauty. Amazon is full of wonders—discover them on a rare ecotourism adventure off the standard tourist track. We believe that the greatest luxury of all is experience!
AMAZON GLAMPING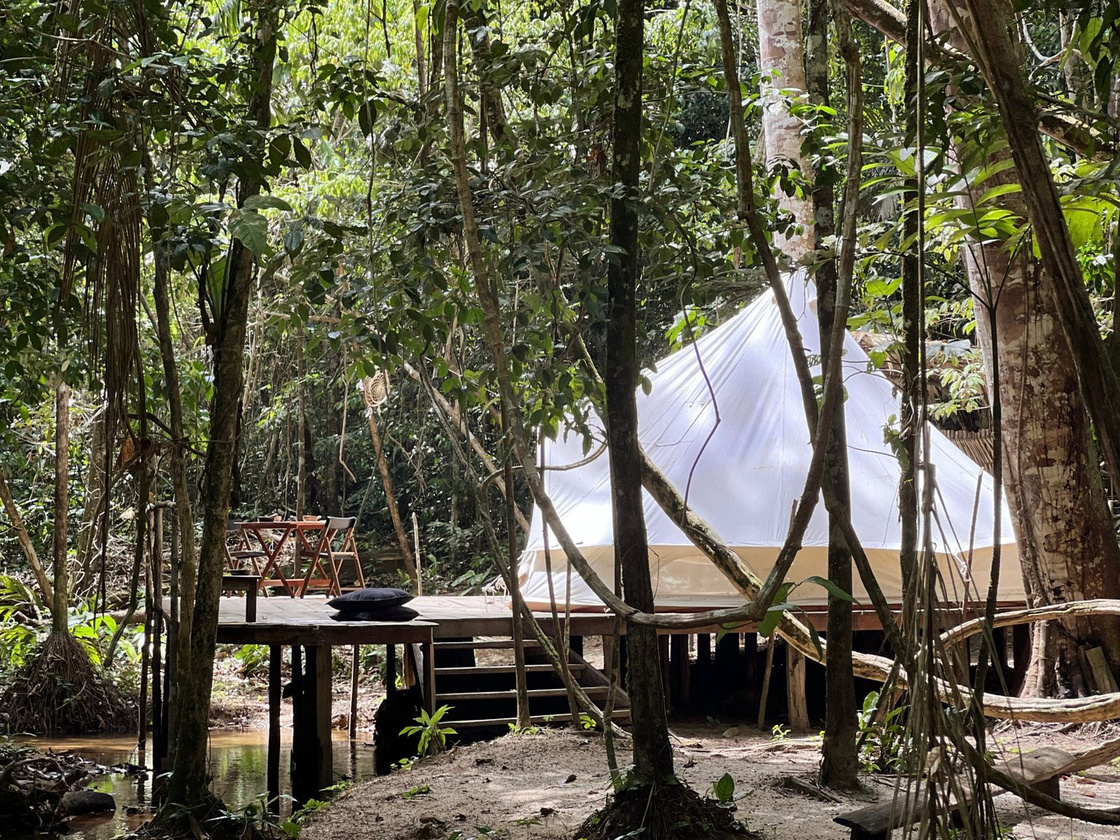 The Amazon Glamping, an exclusive dream offered only through Amazon Emotions, combines a flavor of the nomadic Amazonian traditional way of life with immersive outdoor accommodations that embrace their natural surroundings while featuring indoor luxuries and our commitment to sustainability.
At our fixed and mobile camps we accommodate any up to 16 guests, ranging from couples, friends to large families and everything in-between our upscale canvas tents provide the perfect respite surrounded by the beauty of nature. In partnership with Cécile, a French Parisian interior design architect actually creates unique and refined interiors to top off the experience.
KEY FEATURES
King size bed and luxe linens
Lounge area
Bathroom with shower, sink and flushing toilet
Outdoor lounge chairs
360° netting panoramic views and maximum ventilation

SUITES

AMENITIES
USB Battery Packs
Organic Bath Products
Exclusive Furnishings
Camp Activities
Adventures Concierge
On-site Dining
SERVICE & FOOD
At Amazon Emotions, we believe wholesome and nutritious food fuels adventure, fosters community and enhances your overall experience at camp. We offer an ever-changing menu that embraces both seasonality and locally sourced produce, featuring full board with fresh salads, local river fishes and even kid-friendly nosh.
From social beverage hours in your wooden deck, we've made it our mission to provide you with an elevated dining experience that feeds your connection to the outdoors and those around you. Food allergies and intolerances may be accommodated.
LOCATION
Unplug for two nights or more at our remote fixed camp located in Presidente Figueiredo, about two-hour drive journey from Manaus for a nature experience, or delve deep into the essence of indigenous knowledge through contact with their culture, including food, dress, and language in secluded São Gabriel da Cachoeira. There will be more new immersive camp locations soon.
FIXED CAMP (All Year Round)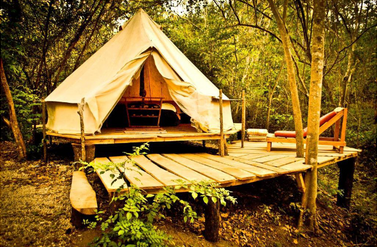 If you want to experience rainforest glamping in Amazon, you can choose a private camp set up just for you and your party. Our fixed Amazon Glamping can accommodate up to 3 tents offering double, twin, triple and quadruple beds.
ACTIVITIES AT THE FIXED CAMP
Visit a waterfall
Hiking on dry-land forest
Guided nocturnal wildlife tour
Hammock camping in the woods
Jungle picnic
Birdwatching
Indigenous handcrafts workshop
ainforest to table culinary experience
Observation of bioluminescent
Mushrooms
Identification of medicinal plants
MOBILE CAMPS (From July to December)
Amazon Glamping in São Gabriel da Cachoeira or the location of your choise in Amazon. Live your unique rustic-charm mobile glamping experience in comfort and style in the location of your choice. We can accommodate up to 5 tents.
ACTIVITIES AT THE MOBILE CAMPS
Hiking & Canoening
Indigenous village visit
Night walk
Route of the indigenous artisans
Dyeing plant fibers
Basketry workshop
Culinary highlight
Hands-on cultural inmersion